More about the 2016 Reunion in Idaho
or Why the Heck Would Anyone Want to Go to IDAHO for the
VAHSHOLTZ FAMILY REUNION?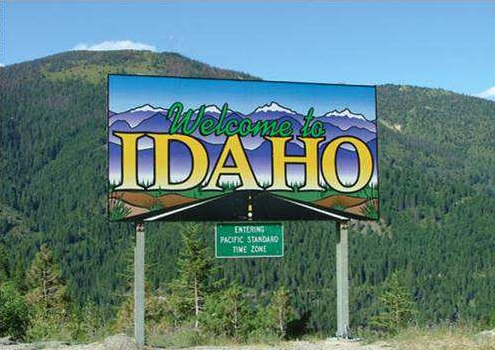 By Ruth (Vahsholtz) Richter
There's probably a good chance that many of the Vahsholtz Family have never been to Idaho? Or, if so, maybe you traveled through on Interstate 84 headed for Oregon or Washington. That would give you a very poor impression of Idaho! I'd suggest looking at the reunion here as a Once in a Lifetime Trip, even if you have been here before. Then plan to include a visit to Yellowstone National Park, which could be right on your way to get to Lutheran Camp Perkins. Or add on some days and go to Glacier National Park in Montana. Or through Yellowstone coming out and returning by way of Utah, which has many, many National Parks. Arches, Zion, Bryce Canyon, and Mesa Verde, to name a few.
Another option for a really perfect vacation while at the July 2016 reunion is to just stay in the Sawtooth Mountain Range area and take in all the sights, rafting opportunities, ghost towns, shopping at high-end Sun Valley. The area also offers a whole range of really great thrift stores. Or travel around in Idaho's whole long list of great state parks and national monuments. There's Craters of the Moon National Monument (unlike anything else in the continental U.S.), Snake River Birds of Prey National Conservation Area, Redfish Lake just down the road from Camp Perkins with great fishing, boating, hiking, or just lolling about, or the Frank Church River of No Return Wilderness where you'll have to hike, raft, or horseback in since no motorized vehicles are allowed in that vast area.
By now you get the picture that this really could be the vacation of a lifetime. Camp Perkins is situated in the Sawtooth National Recreation Area, which was recently listed on the 100 Best Places to Visit in the whole world!
You can go to any of the following websites for more information: www.VisitIdaho.org/things-to-do, www.VisitIdaho.org/free-publications, or www.VisitIdaho.org/natural-attractions/. Better yet, you can just Google Idaho Tourism and pick your own website.
One thing you need to be aware of is that many of the tourist areas fill up quickly, especially things like whitewater rafting. Day trips are more easily arranged but longer trips such as Rafting the Salmon River for multiple days get booked very early and are also quite expensive.
Meanwhile, if you have specific questions in regard to anything to do with the reunion, feel free to email me at: ruthrichter2@gmail.com or call me at 208-462-3442.
The Camp Perkins address is: Lake Alturas Road Stanley, Idaho, 83278. Note that a limited number of "motel-type rooms" are available. Most accommodations are in cabins with path. If you want an "upscale" room, contact Ruth soon. It's too early to actually make reservations, but Ruth will make a list of those wanting the "inside" rooms, first come, first served. The cabins are nice and can accommodate a good sized family. No bedding provided, so bring sleeping bags, blankets or the like.
The map shows the Camp's location in the heart of the Sawtooth Mountains. The tourist town of Stanley is nearby with gift shops, restaurants and motels. There's good road access.