Welcome Cousins!
Vahsholtz and Fahsholtz – Fassholz – Vasholz – Vassholz – Vahsholz
If your name is (or was) one of the above, you are a cousin.
Our site has resources to learn more about the Vahsholz's, make connections and get a copy of the extensive Vahsholtz genealogy book, "The Road To Zwillipp." 
---

---
Vahsholtz Genealogy
On this site you can find:
Ordering information about the Genealogy book, The Road From Zwilipp and the Memories book about Kansas life in the 1880's
Newsletters, with stories and information about Vahsholtz cousins
… and much more!
Don't forget to sign up for the Vahsholtz Cousins newsletter while you're here! Have any questions? Contact us through our convenient webform!
Read the current newsletter, or browse through previous issues.  This publication is distributed twice a year, via email (or snail mail for those who wish to receive it that way).
Here's what you may find in a newsletter:
Reunion Info (usually held during even numbered years).
Stories about your cousins from across the land.
What life was like "in the good ole' days."
Features like Meet your Cousin Edward The Navy Welder, By Edward Rathke
COUSINS, Now & Then (73 Years Ago)  By Geri (Vahsholtz) Tate…and more!
---
"A Toast" to all Cousins:
Carole & Les Vahsholtz – Daughter Jenny Werner

Click to hear us sing the "Ein Prosit" Song

Click to hear the 2006 reunion attendees
sing the "Ein Prosit" Song


EIN PROSIT
GERMAN TAVERN SONG

"Ein Prosit" literally means "A Toast" in German.
This song is frequently sung among family and
friends and is simply a "toast" to friendship, fellowship,
and well being.  The words of the song are:

Ein prosit, Ein prosit
Der gemutlichkeit
Ein prosit, Ein prosit
Der gemutlichkeit

Gemutlichkeit Definition
Friendliness – Comfortableness – Cosiness

The "Ein Prosit" song was sung by all at the 2006 reunion.
Vahsholtz Newsletters HERE!
Or, download the latest one now.
---
2018 Reunion Information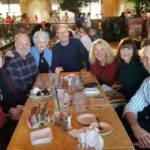 Family meeting on July 13th!
See you next July in Milwaukee!
Marge & Bob Vahsholtz
---
Sign Up:
If you aren't getting an email copy of the Vahsholtz Newsletter, fill out the form below.