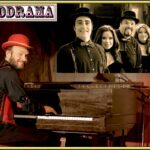 Hello From Beautiful Colorado!
Site of the 2014 Vahsholtz Cousins Reunion
by Mary Dillon
The 2012 reunion was at least a little disappointing because of the fire, but it was great seeing our cousins. What a special time it was to visit with Les and Carole! He was such a great blessing to the family, and will be greatly missed, especially with all the work he and Carole put into the reunions. You could say they were the heart and soul of the reunions.
I know that Les wanted us to carry on, so this coming year we are going to have a fabulous time. We're planning on going to the Iron Springs Chateau Melodrama. This is a won- derful place to sit and have dinner, relax and be entertained by Colorado's famous Iron Springs Chateau players, pictured above.
The Pikes Peak Highway is paved all the way to the top, so it's easier for anyone interested in driving up to see the peak views all the way to Kansas! You can also elect to ride the Cog Railway to the top, or spend a day hiking up the peak on Barr Trail.
Garden of the Gods offers spectacular rock formations, with hiking trails, as well as horseback riding trails.
If shopping is more to your liking, Manitou Springs is still the place to go. You will find unique artisan crafts and gifts. One of our family's favorite shops in Manitou is the Olde Tyme Photography Studio. For an hour you can be a character out of the old West, or a 1930s gangster. This makes for a one-of-a-kind souvenir to remember this special place.
If gambling is more your style, the Cripple Creek Casinos are just a 35-minute drive up the mountain. Victor and Cripple Creek also offer underground mine tours, and lots of historical old buildings. Lake Skagway is just 15 minutes from Victor, and if anyone is interested in a day trip to fish, please let me know and we'll get the boat in the water.
For little ones, the Cheyenne Mountain Zoo is a great place to spend the day. This is the highest zoo in North America. It offers a carousel, an aerial ride to see the animals and the great views of Colorado Springs.
We will be looking forward to seeing all of you July 18- 19, 2014, so until then have a great holiday season, and love to you all.